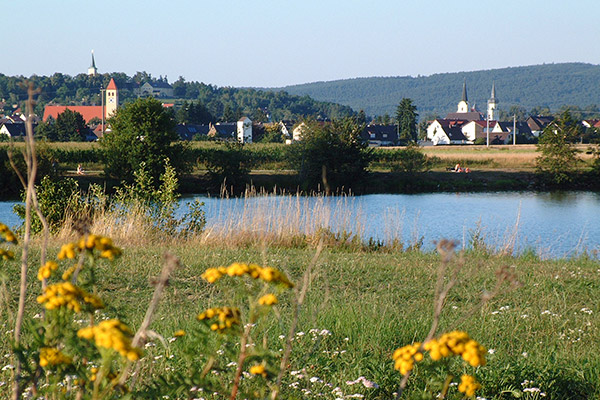 Schwarzenfeld lies in the northeastern quarter of Bavaria, in a lush, hilly region known as the Oberpfalz (Upper Palatinate). The town's name means "Black Field" in English. When its founders established a settlement on the banks of the Naab River in 1015, they named it after the fertile loam that nourished their crops.
Religion has always been the bedrock of Schwarzenfeld's culture. The town is only 23 square miles wide, yet three Catholic churches and one evangelical Christian church are necessary to serve its population (which presently numbers around 6,300 inhabitants). A life-sized crucifix with a gold-plated figure of Jesus graces the town square, further demonstrating the importance of faith to its denizens.
Schwarzenfeld is largely a farm town, though it is also known for aquaculture (local fisheries breed a type of fish called the "Schwarzenfelder carp"). The industry's importance is reflected in the town coat of arms, which features an image of the carp.
The town is also home to the Buchtal AG, a ceramics factory that was incorporated into the Hermann Goering Works during the World War II era. Several minerals are plentiful in the Oberpfalz—quartz, lead, zinc, and uranium ores, to name a few—and the factory facilities were converted to process them for the war effort. The Buchtalwerks is still a functional factory today, and primarily produces fireclay bricks for the construction and operation of metallurgical plants.
Suggested articles and websites: